If You have not already seen this video, please watch it:
It has been said that a picture is worth a thousand words. And, in today's intensely communicative world, a video is worth a thousand pictures.
Please take 2 minutes to watch this video entitled, "Where the Money Comes From." It really tells it all, and it will make everything much clearer for you.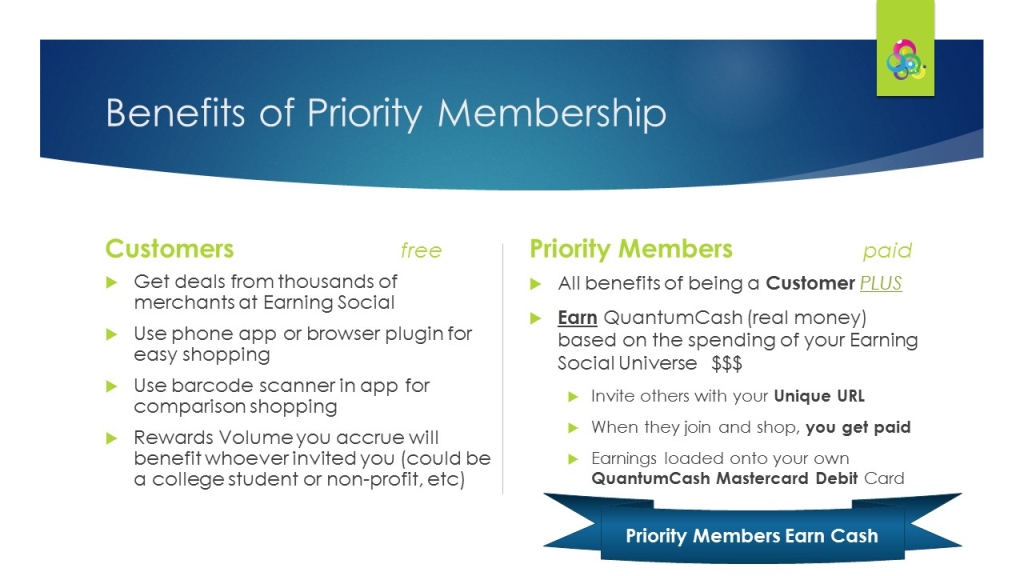 How to Sign Up as a Free Customer
Becoming a QuantumCash Member could not be easier. There are no credit checks* because we are NOT a credit card company. Simply complete the easy enrollment form, and hit submit.
You have two choices:
1) Become a Free Customer of Earning Social and have access to get great deals when you shop at Earning Social Merchants (Please note that Customers do not earn QuantumCash Multiplied Rewards. Only Quantum Members can do so. You do not have to upgrade now. You can do so at a later time.) So, if you would like to browse around Earning Social, and experience or, feel free to join as a Free Customer.
Or, if you are serious about earning QuantumCash Rewards….
2) You might want to become a Quantum Priority Member right away. This get you on the right track to begin earning QuantumCash Multiplied Rewards. You can become a Quantum Member for a modest annual fee, and receive your personal QuantumCash Debit Card branded by MasterCard, plus a host of other benefits, including the opportunity to grow a Personal Earning Social Universe by inviting others to join.
Either way, the Process is to become a Free Member First. You will be given the opportunity to upgrade. To join as a Free Member, Click "Become a Customer" below.
To View the Benefits of Quantum Membership, click "Become a Member" below. If you choose to upgrade, your Quantum Membership comes with a full 30-day, money back guarantee. Simply request your refund, and return your card. No questions asked.
Become a Free Customer Member Today!
Start Shopping!